Partial Wedding Planner is designed on an individual basis for couples who do not require full planning or find themselves midway through the planning process. Maybe you have already secured the wedding and reception sites but require some assistance on a few other vendors. Alternatively, perhaps you already have some planning and décor ideas you want some advice with.
The Partial Wedding Planner package includes up to 10 hours of consultation where you decide what you need help with. Whether it is sourcing a specific vendor, creating a floor plan or managing a guest list, this service is designed to save you valuable time, money and stress by relying on the expertise of a professional wedding planner.
❤
Pricing for Partial Wedding Planning service starts at $3495 and depends on guest count, location(s), and logistics.
Includes services in our Month-of Wedding Day Management Package, plus 25 hours of professional planning assistance with your lead planner during the planning process. Planning hours can be used for any of the following:
Attendance at vendor meetings
Check-in meetings or phone calls with your planner
Budget projection and management
Design and decor advice and feedback
Review of vendor contracts
Assistance and management of rental orders
Checking vendor availability
Gathering event vendor quotes
Scheduling vendor consultations for you
Assembly of guest favors and welcome bags
Provide expertise with finalizing banquet layout and seating arrangements
Finalize banquet details in regards to final guest count, meal orders and special accommodations
❤
Save the Date Now & Get the Free Wedding Planners Checklist [2022]
Is Your Planner Certified?

When hiring someone to take care of one of the most important days of your lives, you have the right to expect excellence. Hire a professional, someone who is WPIC certified!
The Wedding Planners Institute of Canada offers members access to regular training and resources that can make your special day remarkable. Plus, it ensures you've got someone you can trust to bring your vision to life under a strong code of ethics.
Pink Media is WPIC certified and prepared to apply all our special knowledge and expertise to work on your behalf, and ensure your wedding is worry-free and truly special.
Andriana Avraam
Wedding Planner Toronto • WPIC Certified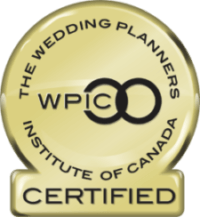 Wedding Planners Toronto
♥

Andriana